Easy Sweet Potato Chips Recipe
The Perfect Healthy Snack
Looking for a healthy way to curb your cravings? Look no further. Sweet potatoes are the perfect way to satisfy your sweet tooth. And they satisfy salty cravings as well! Avoid conventional potato chips, which are full of saturated fats and "bad oils," such as peanut oil and canola oil, which at contain omega-6 fats that, overtime, can lead to chronic inflammation. Homemade chips are a great alternative because you choose which type of oil to cook them in.
I use olive oil, avocado oil, or coconut oil when cooking, or for salad dressing mixed with vinegar. These oils are low in omega-6 and contain less saturated fats. When purchasing store-bought chips, I make sure they are cooked in avocado, olive, or coconut oil, and not canola or vegetable oil. Chips made with good oils will usually include it on the label.
My homemade sweet potato chips make a great side or snack, and can be prepared in under 30 mins. (You can make them with regular potatoes as well if you prefer!)
They go great with my Rosemary Chicken!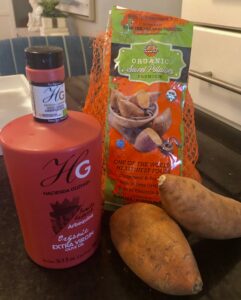 Ingredients:
4 Sweet Potatoes
4-5 tablespoons

Olive Oil

Salt and Pepper
Instructions:
Preheat oven to 400 degrees Fahrenheit.
Thinly slice Sweet Potatoes
Place slices side-by-side onto baking sheet (may need 2 sheets).
Drizzle Olive Oil
Apply Salt and Pepper
Mix the chips around so that the oil and salt and pepper are evenly distributed. Ideally, each chip has a thin coating of oil.
Place into oven. Bake for 20-25 minutes.
Enjoy!