Citrus and Cranberry Quinoa Salad
Quinoa is gluten-free, fiber-rich, and grain-free source of protein that makes a perfect salad and side dish. Quinoa salad is a perfect dish to bring to any holiday party, especially with cranberries mixed in, and served alongside a side of green beans, it really fits the red and green Christmas aesthetic. It always gets me in the spirit of the season.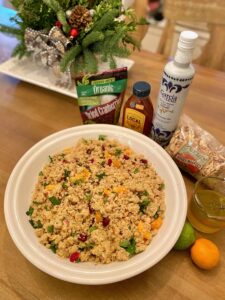 Quinoa has many health benefits. As a seed, instead of a grain, it avoids the inflammatory effects of many grain-based foods including bread and rice. If you are looking to go gluten-free or grain-free to avoid the inflammatory effects of many grains, quinoa is the perfect option. Additionally, quinoa is a great supplemental source of fiber and protein.
Below is the recipe for my quinoa salad. I hope you enjoy it!
Ingredients
Salad
Dressing
Instructions
Salad
Place 2 cups of quinoa in a pot with 4 cups of water
Put on medium heat, wait until it boils over and water has been absorbed
While quinoa is cooking:

Dice 1/4 cups of red onion
Chop parsley
Slice oranges into segments

When quinoa is finished:

Dump into a large bowl
Mix in all ingredients
Dressing
Mix all ingredients
Pour over quinoa
Enjoy!