Gluten Free Breakfast Quiche
Quiche is a great source of protein that can be eaten for any meal. I like it, es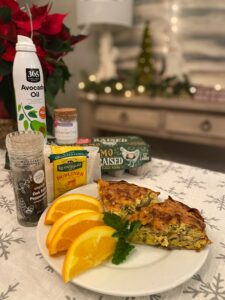 pecially for breakfast. I use a gluten-free potato crust that can accommodate any gluten-free or grain-free diet.
Quiche has many health benefits. Gluten-free quiche avoids the inflammatory effects of many grain-based foods including bread and rice. If you are looking to go gluten-free or grain-free to avoid the inflammatory effects of many grains, this recipe is the perfect option. Additionally, quiche is a great supplemental source of fiber and protein.
Below is the recipe for my breakfast quiche. I hope you enjoy it!
Ingredients
10 eggs
1/4 cup of grated cheddar cheese (I use Dubliner's.)
1/2 onion
1 pepper
1-2 russet potatoes
Avocado oil spray
1/4-1/2 cup of chopped fresh organic parsley
1-2 mandarin oranges
Sea Salt (Salterie One is a great option.)
Pepper
Optional: one breakfast sausage
Instructions
Crust
Preheat oven to 375 degrees
Slice russet potato with a mandolin
Grease a pie plate with avocado oil spray
Place sliced potatoes on a pie plate
Bake for 10-15 mins at 375
 Quiche
Cleanly break 10 eggs then blend in a bowl using a whisk.
Grate 1/4 cup of cheese
Spray avocado oil onto frying pan on medium heat
Dice onion and pepper, sautee in a frying pan
If using sausage, cook in a separate pan
Chop cooked sausage and set aside
When cooked, set aside vegetables
When potato crust is browned, remove from oven
Pour egg mixture, grated cheese, diced and cooked vegetables, and sausages into the pie plate over browned crust.
Place pie plate with crust and mixture onto a cookie sheet, then place in oven
Cook for 50 minutes at 375
Remove from oven when browned. Serve alongside oranges and apply salt and pepper to taste.
Add parsley as garnish.
Enjoy!