5 Day No-Sugar Cleanse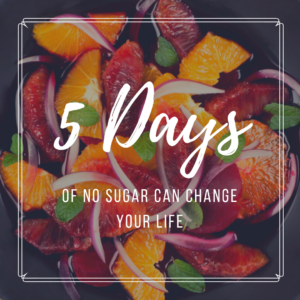 With school starting, worries of our future with COVID-19 are overwhelming. The stress of these times, or any time, does not always promote the best eating habits.
To help you shed the "quarantine fifteen," and achieve several others goals, I created a new cleanse. 
There are many benefits to reducing your sugar consumption, including, no more sugar crashes, no more excess weight, more energy, and clearer skin.
So, are you ready to take the next steps?
(OPTION: Add an extra 5 days, total of 10, for an additional $30.)
What You Can Expect With This Cleanse:
Daily support from me via Email, Facebook, or text
Learn how sugar relates to hormone health 
Learn how sugar causes candida and inflammation  
Learn how sugar affects stress 
Learn why sugar is a silent killer
Find out the 10 Foods with Hidden Sugars
How to Deal with Sugar Cravings
10 Ways to Practice Self Care
Learn about the Foods that Help End Sugar Cravings and Boost Energy.
Learn about Nutrients that may be Missing from Your Diet
Receive my Favorite Go To Sugar Free Recipes
Receive a Bonus Challenge for the Whole Family
Yes you can have coffee!  Yes you can have fruit and more!
These programs are done on-line: private Facebook group (optional), text (optional), email and one teleconference call to kickoff reset the Sunday before it starts (Sept 20th, 7pm). 
(This is a bit easier than my 10 Day Sugar Detox but will still see lots of results)
To sign find out about our next cleanse, email me.
I accept payment here below or Venmo @anne-dwyer-7 or check or cash
Workshop Features:
Date: Monday, September 21st
Price: $70.00  (if you want to add 5 more days for a total of 10 days=$100)
Access to recipes & helpful handouts
Access to Facebook Group
Daily check ins
"I wanted you to know that my cholesterol dropped 30 points and I credit the cleanse and what I learned by participating. Thank you, thank you! I am so happy to not have to go on medicine. I have stuck to a lot of the recipes and insights that you shared with me-foods, snacks, recipes, what to avoid, etc… " – Mary
"Thanks so much Anne!! I am definitely happy because I lost 5lbs but also have a better understanding of what I can do to be healthier. Every cleanse helps me a little more on the path. Thank you for everything! You did great leading us through!!" – Kristi
"I have lots of energy and sleeping well. Loved all your tips and support! Loved the recipes too. Lost 4 lbs!!" – Katie
"Down 4lbs! Thanks for all your of your guidance and support!" – Karen
"Thank you! It was a good week! It gets easier each time I do your cleanses." -Jen
"Thanks! I feel great! The lemon water really works! I went up an entire number on the pH scale after drinking lemon water." – Ellen
"I feel good! It's nice to have a goal to keep me from snacking and grabbing things mindlessly. It was a fun week. Thanks Anne!" – Eileen
*By signing up for this workshop you accept the release  & waiver of liablility terms stated here.