Gluten Free Blueberry Buckle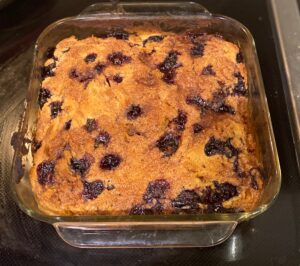 This is a great gluten-free desert using the berry of the season! (Adapted from Taste of Home).
Ingredients:
¼ cup of Grass-fed Butter
½ cup coconut sugar
¼ cup organic cane sugar
2 tablespoons unsweetened applesauce
1 ¾ cups of King Arthur's Gluten Free Flour
2 teaspoons baking powder
½ teaspoon salt
¼ cup almond milk
2 cups unthawed frozen blueberries
Topping:
Instructions:
Preheat oven to 375 degrees Fahrenheit.
Generously coat a 9-inch square baking pan with oil or cooking spray.
In a large bowl, combine the butter, coconut sugar and organic cane sugar, and applesauce. Mix.
In a medium bowl, combine the King Arthur's Gluten Free Flour, baking powder, and salt. Mix.
Add half of the flour mixture to the oil mixture. Mix and then add in the milk.
Mix in rest of flour mixture until combined.
Add blueberries, then spoon into prepared pan.
Combine topping ingredients in bowl and mix.
Sprinkle on top of cake mixture in pan.
Bake for 60 minutes until top is beginning to brown.
Enjoy!